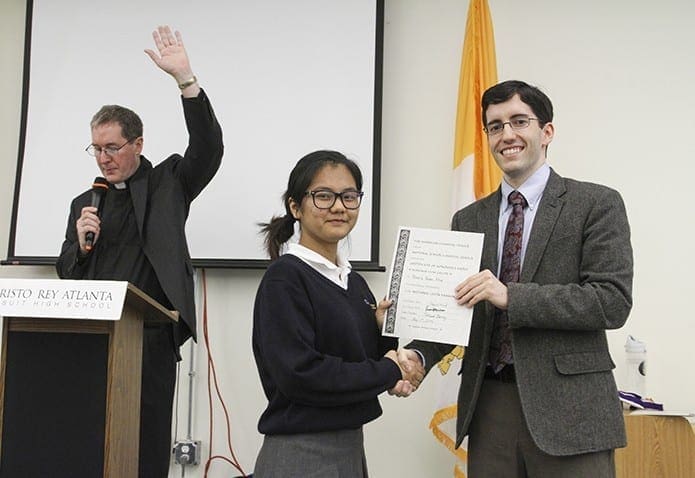 By NICHOLE GOLDEN AND ANDREW NELSON, Staff Writers
|

Published May 28, 2015

Cristo Rey Atlanta Jesuit High School opened in August 2014 with its inaugural freshman class. The West Peachtree Street school offers a college prep curriculum for students from financially strapped families. What is unique is how it does this: one day a week, on a rotating schedule, students are at work in Atlanta businesses earning money to subsidize their education. This is the final installment of a three-part series on the school's first year, which focused on students Sean McNeal and Bethy Ramirez-Sanchez, teachers and administrators.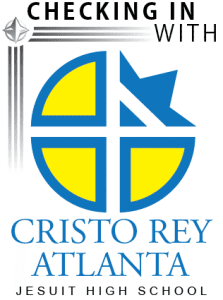 ATLANTA—The Memorial Day weekend offered no break for the inaugural class of Cristo Rey Atlanta Jesuit High School. Students spent their holiday studying for final exams in seven subjects May 26 to 29.
Earlier this spring, they got a taste of a national exam. Of the 154 students, none had ever taken a Latin class before last August. But by early 2015, the students joined peers from across the country and 20 countries in a timed test answering 40 questions on Latin and Roman culture.
When the results were in, some two-dozen students from the Midtown neighborhood school matched or bested the national average in the exam. Latin teacher Patrick Barry celebrated his students' achievements with the entire student body during a lunch period.
"The students have made so much progress," said Barry, "Some have a ways to go, but others have made tremendous progress."
In 2014 the West Peachtree Street school welcomed its student body, nearly all African-American and Hispanic, with a summer school of intensive classes. Students then faced a boot camp on business etiquette to prepare for work at 41 Atlanta corporations. After wrapping up exams May 29, the seven teachers have a week's vacation before reporting again for summer school. The summer academy begins in late July for incoming students.
For Sean McNeal, the inaugural school year ends on a high note with a strong grade point average and magna cum laude award on the Latin exam. He spent his year juggling books and his work-study job doing financial analysis with Dell SecureWorks in Atlanta. The rising sophomore played a little soccer and joined the cross country team.
"I find myself having to manage my time more wisely," he said.
There were a few times he said he felt the school was too much. He'd wake up close to 5:30 a.m. at the start of the school year and then fall asleep at midnight. His family has since moved, cutting his commute time. "I'd just be so tired from the day, homework and study."
He learned he may not be cut out for a career that puts him at a desk daily. But he knows more about spreadsheets.
"It's an asset. You can take it pretty much to any job, and that's pretty nice. I'm more considerate of people who have to work full-time jobs now," said McNeal.
"I think it went really well. It seems like just yesterday I was applying," said Bethy Ramirez-Sanchez about the freshman experience. The course load of religious studies, algebra, Latin, biology, English and principles of math and principles of English has been rigorous. It pushed Ramirez-Sanchez in her studies as she found out quickly the grading scale at Cristo Rey is different.
"I got a 90 on a test, and I thought that was really good," she remembered. Instead of an A, it was a B minus, she said.
Ramirez-Sanchez, who worked weekly at OB/GYN of Atlanta at Northside, said she's surprised how much she's grown over the year. For completion of the corporate work-study assignment, she and other students compiled PowerPoint presentations called Project CEO, highlighting their job experiences.
"It was really a chance for us to thank our supervisors," she said.
Cristo Rey relies on support from the business community through the work-study program to pay most of its bills. Families pay tuition on a sliding scale.
Ramirez-Sanchez knows the companies really took a "huge risk" in bringing teens on board. A year of work that began with handholding has evolved. "Now, we're doing everything on our own," she said.
Indeed, Atlanta's business community embraced the school. Some 90 percent of the existing business sponsors are rehiring students. In addition, the number of businesses supporting the school is going from 41 to 68.
"Atlanta has supported us by being ahead of the curve. We've been blessed because the corporate world has stepped forward," said Jesuit Father Jim Van Dyke, the school principal.
Challenges and opportunities at the new school
Administrators enrolled students with the potential to succeed, never mind that some came with classroom skills that lagged behind the typical college-bound freshman.
Barry, who is 24, just finished his first year of teaching. A native of Philadelphia, he attended a Jesuit high school and was familiar with the Cristo Rey school in his hometown.
"The Jesuits had a large impact on me at high school. I knew the Jesuits do ambitious things. … I knew it was going to be a tremendous amount of work," he said about joining the small faculty of seven teachers.
"We had to spend a lot of time teaching them how to be students," the Latin teacher said.
Leading in the classroom can mean forthright conversations.
Barry said, "You have to be honest with them. You can't talk down with them. It has to be a conversation. Treat them with respect. Sometimes treating them with respect means calling them out."
The school also celebrates their accomplishments. The names and grade-point averages of the top honor roll students are shared publically.
"They feel safe to be smart here. They aren't going to be made fun of," said Barry.
Close to a third of the students earn grades to make the honor roll, said Father Van Dyke.
Emily Bird, the English teacher, admired the motivation that gets the young people to the school.
"I usually just say they are really awesome. I think I get up early in the morning, but they get up half an hour or an hour earlier than I do. It's a testament to their family," said Bird who taught for three years in a Mississippi high school with Teach for America. She is the moderator of the student newspaper, the Cristo Rey Torch, and the student council.
Writing was emphasized in her classroom. She estimates she graded some 4,000 essays. Next year she wants to tie together writing and what they learn in class with what the students face in the corporate work-study.
Xavier University graduate Marcia Pecot is the school's biology teacher. "That makes it really special," she said of her role as the sole teacher of the subject.
Formerly teaching in public school in Union City, this is Pecot's fourth job in her career as an educator and the best, she said. Accomplishments in this year included participation in the STEM Fest, a science, technology and engineering festival at Georgia State University, and development of an award-winning garden in the school's parking lot where students are growing radish, kale, collards and lettuce.
In biology labs, Pecot watches students develop critical thinking skills and take on leadership roles. She can share those assessments with other faculty members.
"I probably get to see a lot of things other teachers wouldn't," said Pecot.
One of her observations has been the spirit of cooperation among the student body.
At the beginning of the year, the students were mostly strangers from 77 middle schools across metro Atlanta. "They really didn't know what to do with each other. They work really well together," she said.
Pecot, who also coaches cross country, finds the freshman class very appreciative of their educational environment.
"It's not typical of 14-year-olds at all," she said. "It's very different. … They do notice the opportunity."
Jesuit way of education
The school is a new ministry for Jesuits in Atlanta. There are 28 schools in the national Cristo Rey network. The religious order has a reputation for scholarship.
"We keep the focus on what it means to be a Jesuit school," Barry said. The Jesuit characteristic of "cura personalis," Latin for "care for the whole person," is the centerpiece of that effort, he said.
Barry said faculty members are conscious about keeping it in the forefront of their mission. For him it means developing the young women and men to have "lives of service and purpose."
Teaching here means arriving at 7 a.m. and sometimes not leaving until after 5 p.m.
"The teachers are committed to it. It's a lot of hours. It's rewarding. Students made a lot of progress," he said, adding the success was helped by the tutors and mentors who work with the students.
Bird said a unique feature of Cristo Rey is how teachers and administrators create an environment "that is incredibly consistent and reliable for students and their families."
"There are hardly ever interruptions in class, and students are held to consistent expectations regarding behavior and academics in our classrooms and outside of our classrooms. Because of this, we are able to focus more clearly on each guiding our students in their academic and personal growth," she wrote in an email.
Pecot said the teaching staff works together to address a common goal on behalf of their students. "How can we help them learn better?"
Ramirez-Sanchez took part in extracurricular activities as well, including volleyball and freshman council. She also was involved in campus ministry. "We kind of focus on social justice and human dignity," she explained.
The ministry hosted a social justice spaghetti dinner highlighting work with the disabled.
Recently, the freshman council held a bake sale, raising $500 for earthquake relief in Nepal.
The teacher-student ratio fosters forming good relationships with others.
"There's only 18 of us in each class," said Bethy. "You're going to get to know everyone. We all formed a bond."
The administrators are supportive of the students, too. Bethy said that Deacon Bill Garrett, school president, eats lunch almost daily with students. Father Van Dyke is more than a disciplinarian.
"He always gives good advice," she said.
Patrick Medley Sr., dean of students, is also the school's physical education teacher. According to Medley, attitude and creativity have made all the difference in the physical education offerings of Cristo Rey, a former office building hemmed in by busy Atlanta streets. The parking lot doubles as a baseball diamond, a volleyball court and running track.
Medley previously taught health and physical education at DeKalb PATH Academy charter school.
He said Cristo Rey students managed to work on skills in basketball, baseball, soccer, running and other sports on the school's blacktop lot or the perimeter sidewalks.
"This experience, in my opinion, will help our students recognize that attitude impacts aptitude. Our students have exhibited a great attitude about physical education," he said.
As a result of attitude, some students have discovered innate skills in various areas, said Medley.
"Bethy, in particular, never complains about a lack of resources and gives her best effort," he said. She recently was cited as being physically fit through recorded laps and competing against the clock. Sean was recognized as most improved in baseball, although students had to play with a plastic bat and tennis balls.
Looking ahead
The school next year will almost double in size. The rising sophomores will move to the building's top floor. Another 145 freshmen have been admitted to date.
McNeal advises incoming students to keep their eyes on the long-term goal.
"You won't like it all, but you'll realize it doesn't matter if you like it or not," he said. "It's more about the future than the present."
Ramirez-Sanchez recommended Cristo Rey to several eighth-grade students at her parish, St. Patrick Church in Norcross, and two have already been accepted. She said her parents plan for all of her three younger sisters to one day attend Cristo Rey. "My parents are so happy and proud," she said.
The teachers' objectives are clear to the students.
"They want us all to succeed. They want us all to go to college," said Ramirez-Sanchez.
She has learned much about the Jesuit model of education and is already eyeing Jesuit colleges.
"They have very high standards," said Ramirez-Sanchez.
Pecot will be the ninth-grade biology teacher again next year as her first-year students move up. She will be welcoming live animals into the classroom, including angelfish, tree frogs and a turtle.
Medley added that it's been a blessing to be part of history with Cristo Rey staff and students in what "will prove to be the foundation of a school environment that we all will be proud of for years to come and after we are not around anymore."
Barry will again be teaching ninth-grade Latin. He said, "You have to show them the possibility of what they could do with their lives. They don't know 'I could be a doctor or a lawyer.'"
Looking ahead to next year, Father Van Dyke said he wants to make sure students understand the school is serious about its standard of three hours of nightly homework and start the students working earlier with volunteer tutors, many of whom attend Georgia Tech.
He has seen the school become the center of a new community as students stay hours after the school day to do homework and be with each other.
"Officially we close at 6 o'clock. We usually have to start chasing people out at 6:30 or so, often as late as 7 or 7:30. They know they can study here. They know it's safe here. They all sort of know they are here doing something special."