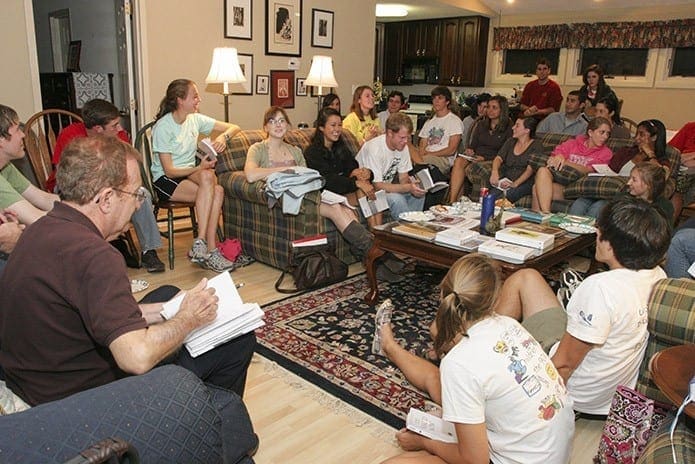 By ANDREW NELSON, Staff Writer
|

Published April 16, 2015
ATLANTA—Leaders in the Archdiocese of Atlanta see the new Pastoral Plan as an opportunity to rethink how people are served in parishes, from how to pass on the Catholic faith to how to engage those who find themselves on the outside of the church looking in.
With its 14 recommendations, leaders view the 5,000-word document not as a series of to-do boxes to check off but as a vision statement they believe will assist the Catholic community to focus on priorities.
Some 20,000 people helped shape the document by offering ideas and voting on the recommendations in the five-year plan. And with its publication, 1 million Catholics in 96 parishes and missions across 69 counties of the archdiocese are being challenged to embrace their faith and live it more fully.
"The main message in the plan to the people in the pews is that it is no longer adequate to just be a parishioner in the pew," wrote Juan Rubio in an email.
He is one of a dozen members of the committee that oversaw the nearly 18-month project.
Deacon Dennis Dorner, the director of the permanent diaconate and archdiocesan chancellor, said attention in recent years focused on constructing new buildings for growing parishes so this project aims to encourage parish leaders to turn their attention to members' spiritual needs.
The plan includes four themes that crystallized as opinions were solicited, weighed and refined. Under each theme, there are now three to four specific actions that were unanimously chosen as the top priorities by clergy, lay people and religious.
How they will be implemented will be left to each parish or mission.
"These things need to happen in the parish. And the parish needs to decide the best way to address how to get there," Deacon Dorner said.
Pilot projects suggested
Amy Daniels, who directs the archdiocesan Office of Formation and Discipleship, said she's grateful to all who serve in parish ministry, and her office will support them as they adapt to the pastoral plan.
"I think anything new makes people nervous," she said. "Nothing is mandated. It's wide open. "
Ten out of the 14 recommendations relate to faith formation and will create a dynamic between parishes and the office Daniels heads. She said she hopes parish leaders focus on the ideas during the next few years they can do well. There aren't cookie-cutter solutions for anyone, Daniels said.
"With 14 recommendations, a successful parish may want to narrow its focus. Pilot programs can be a good way to try something new out," she said.
If a pilot program doesn't achieve what parish leaders hope, it can be easily set aside and other ideas tested, she said.
One recommendation suggests reviewing religious education programs and reshaping them in a family formation model. It may be new for parishes to implement a faith program for the whole family, rather than the traditional parish school of religion. However, Daniels said it's well understood children witnessing the lived faith of parents is the best way to ensure they remain Catholic as they grow into adults themselves. Studies have shown seeing a father involved in parish life is especially key to a child's adult faith, she said.
A goal for her office is to help parishes empower parents to share the faith, Daniels said. Parents who feel shaky in their own Catholic knowledge will be given tools to share, she said, adding both parents and children will benefit from more knowledge.
'Priests cannot do it all'
It's an effort Deacon Dorner applauded.
"The basic incubator of our faith has to be in our home," he said, where children and adults live their faith.
Deacon Dorner believes deacons will be a valuable resource for parishes as they reexamine what they do and how they do it. Trends show there will be continued growth in the number of people in parishes. The number of Catholics will outpace the growth in priests to serve them.
"Priests cannot do it all," he said. Deacon Dorner said he hopes deacons take on leadership positions as part of their ministry to serve. There are some 260 permanent deacons in the archdiocese.
Some archdiocesan administrative offices are changing to better implement the plan. For instance, Deacon Dorner's office will oversee advocacy offices of Respect Live, Social Justice, Prison and Jail Ministry, and Disabilities Ministry, so he can direct deacons to serve identified needs.
On expanding charity and service opportunities, Deacon Dorner envisions one area could be serving people who feel themselves on the margins of the church and society. Deacon Dorner said he hears from deacons who love their gay and lesbian children or with divorced and remarried family members.
"There are people who just feel like they don't fit. We need to let them see that they do fit. They are part of it," he said.
As the Pastoral Plan acknowledges that parishes will continue to evolve, Deacon Dorner treads lightly on any idea that calls for deacons to be parish administrators so the priest focuses solely on the sacraments.
"We need to be careful about clericalizing the administration of the parishes," he said.
Instead, he said deacons have sacramental duties that can be tapped more often.
Deacons are to be "servant leaders" to match their sacramental roles and be instigators for parish programs, he said. A deacon needs to "listen to the needs of the people and be there to address them," he said.
He envisions a deacon building a foundation for a parish program, but once an effort is launched, stepping aside so others can lead as the deacon tackles the next parish need. As he put it, "get your hands dirty and move on."
'You don't need to have all the answers'
As the community becomes more ethnically diverse, Deacon Dorner said the diaconate program is responding. There are efforts to enlarge the pool of diaconate candidates, especially by reaching out to Hispanic, Vietnamese, and other ethnic groups, he said. While English is still a requirement to maintain community unity, the program can make accommodations to assist the men studying to be deacons, he said. Also, cost should no longer be a hurdle. The archdiocese pays for diaconate education. Small parishes with a limited budget can encourage a man to pursue a vocation as a deacon without worrying about the cost, he said.
His expectation is for parishes to try promising new ideas.
"You don't need to have all the answers. Feel very comfortable knowing you don't have the answers and start looking for those answers," Deacon Dorner said.
"In a lot of parishes, they are probably doing a lot of these things already. Hopefully we can make that happen in those places where it is not happening, and we know it is not happening universally or we wouldn't have the responses to the surveys that said, 'How can you help me?'"
Organizers who worked behind the scenes to steer the Pastoral Plan believe its success will be determined by how it's implemented at the parishes.
Gwen-Dolyn Cutter said the "focus and energy will now be toward working with the priests in implementing the plan."
"People in the pews will again become involved with the ministries and organizations in tailoring goals, objectives and measures for their individual parish," said Cutter, who attends St. Pius X Church, Conyers.
The plan is guidance for every parish, large and small, one with many programs and those with few resources, said Rubio, who served on the steering committee. It offers guidance for parishes of every language, ethnicity, and size.
"However, it is important that even a well-developed parish understand that new challenges require continuous improvement of their offerings, and that there is a certain inherent responsibility that those parishes bear as models and benchmarks for the archdiocese as a whole," he said.
---